5 Questions about your Wix Meta Description
5 Questions about your Wix Meta Description – In this article I am taking a very practical, down-to-earth approach to writing your Wix meta description.
You will learn what a meta description is and why it's important for SEO. Most importantly, I will give you 5 easy-to-ask questions to crash-test your meta description.
If you want to learn more about Wix and SEO, make sure you check my other article:
This State of Wix SEO post is part of our Wix SEO series, including:
If you need help with SEO for your Wix website, make sure you get in touch.
What is Wix Meta Description?
The Meta Description is a short excerpt from a web page that is displayed in the SERP.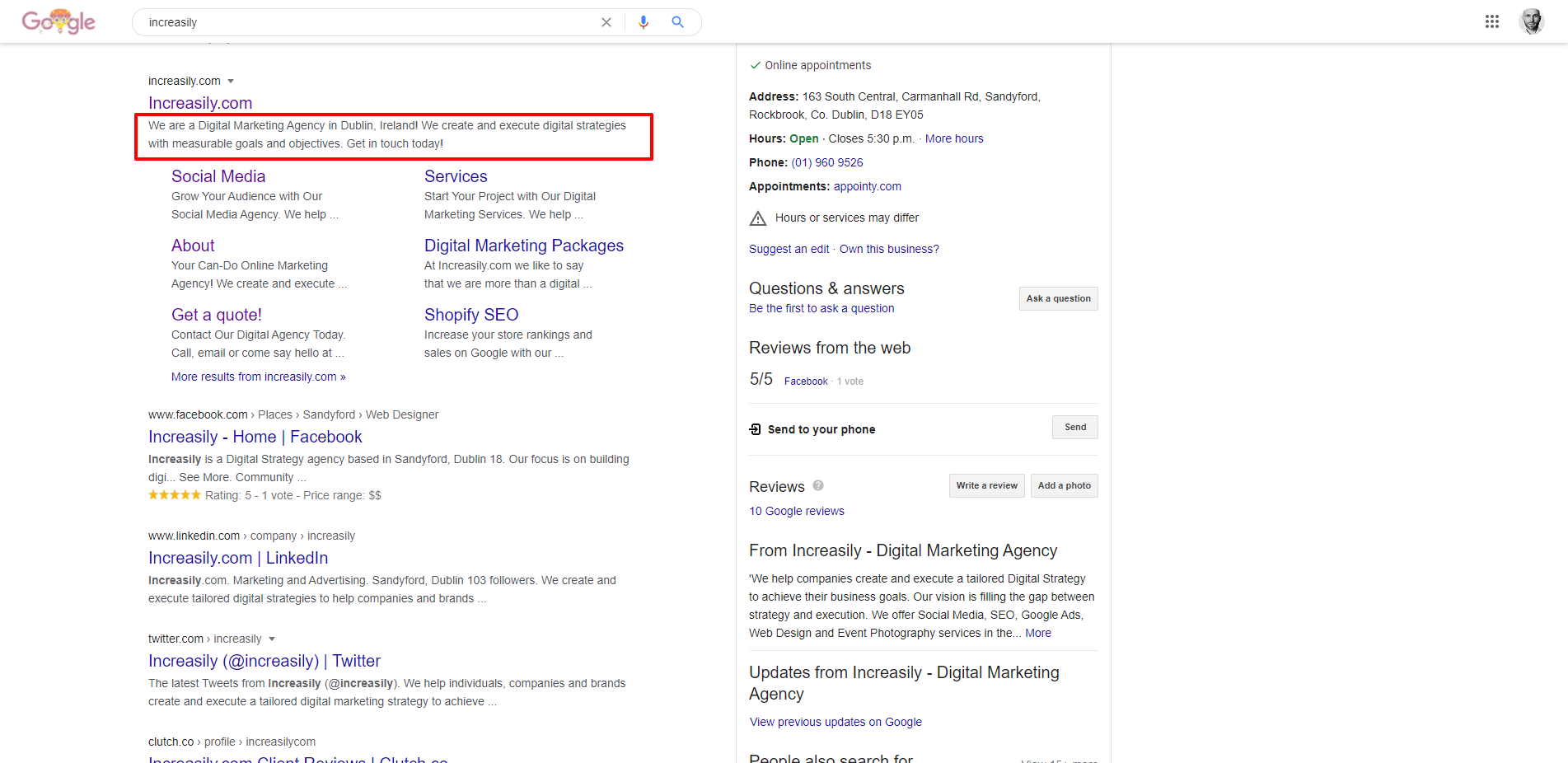 Why is Wix Meta Description Important for SEO?
The Meta Description has an indirect impact on the rankings of your web page.
Although Google doesn't consider it as a ranking factor anymore, it can indirectly impact current ranking factors and page experience metrics such as Click-Through-Rate, Dwell Time and Bounce Rate.
5 Questions about your Wix Meta Description
Is My Wix Meta Description Relevant to the Content of the Page?
The Meta Description indirectly affects your rankings by way of influencing dwell-time and bounce rate.
For this reason, you want to make sure that your 160 characters or so of text are highly-aligned with the content of the corresponding page.
For example, if you mention a huge discount in the meta description but there is no evidence of that on the page, the user is likely to bounce off right away.
Remember: the Meta Description is a short excerpt from your web page. As such, it should accurately reflect its content.
Am I Giving the User an Incentive to Click?
This questions it to check if your Meta Description is compelling enough for users to click on it.
An incentive to click is not meant a discount or a freebie. It has more to do with the value that you bring and your Unique Selling Proposition (USP).
For example, a description like this…
Get in touch with Ireland's 1st and only[your USP] Wix SEO agency today
…is more likely to generate a click than one like this:
State of the art SEO agency based in Ireland
Does My Wix Meta Description Provide a Solution to a Problem?
The purpose of marketing, digital and non-, is to provide value to a target audience in exchange for their attention (and possibly money).
Providing value can mean many things, from solving a problem to teaching something, etc.
Each of your Meta Descriptions should clearly explain what value you can provide. For example:
Is your Wix website not visible on Google [the problem]? We will improve your rankings and give you peace of mind to look after your business [the solution / value you bring]
Does My Wix Meta Description Include a Call-to-Action?
Adding a call-to-action doesn't mean that your visitor will religiously follow it.
However, asking this question will help you get clarity on the action you want people to take once on your page. For example:
Get in touch [the action you want your audience to take] now for a free SEO consultation
Does My Wix Meta Description Look Spammy?
Some businesses put their phone number and email address in their Meta Descriptions.
Others write some of the words in capitals (eg 'FREE').
Some businesses stuff their Meta Descriptions with keywords, like it's the 1990s.
This generally conveys a feeling of being spammy or not having a high authority online (using the capitals is like shouting).
Make sure you don't do that in your texts.
Sources
https://www.searchenginejournal.com/how-to-write-meta-descriptions-for-local-stores/389897/
https://unsplash.com/photos/yeB9jDmHm6M (Featured Image)
Hopefully you have found this helpful. Let me know in the comments!